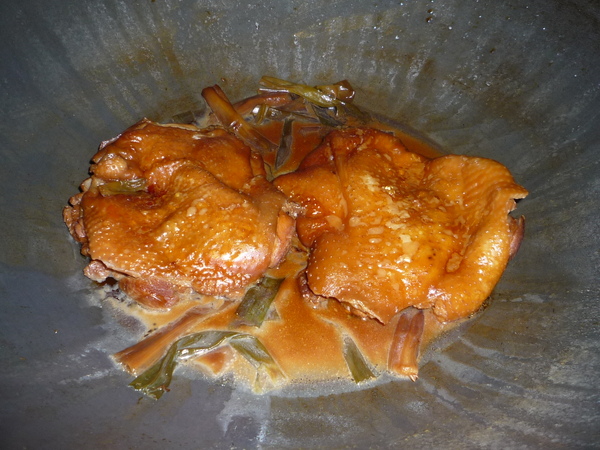 (Home made chicken breast)
This is one of my most favorit dish made by my mom! I know the picture doesn't look nice but I can ensure you it tastes super good. Sure, you have to cut it into small pieces before you put it on the plate.
1:3=Soya Sauce:Water, green onion, and chicken breast with skin. Make sure you soak your chicken breat in the soya sauce+water with green onion, and cook it with medium fire. After 10 mins cooking, do turn the chicken breat to the other side, so the whole chicken breat will absorb in the sauce (because the longer you cook, the less sauce left). And then after another 10-15 mins cooking, turn the fire off, but leave the cover on the pot to stew the chicken breast by heat. Then, the chicken breast will turn to this color (as above picture shows; close to soya sauce color), it's ready to be eaten!!!
Enjoy lor!! Yummy~ Looks......