目前日期文章:200902 (12)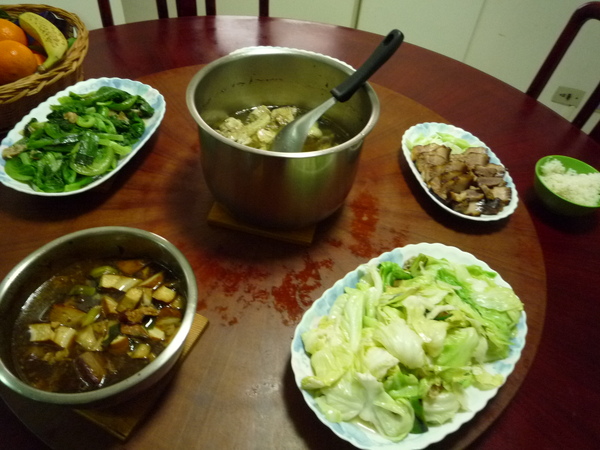 5 dishes and one soup, it's pretty awesome for lunch at home. My mom is a very good housewife who always prepare many dishes for family. No matter how many people will attend the meal, she always prepare at least 3 dishes plus one soup. Sometimes, it's even not strange to see two soups tho.
I am not in a hurry, I am being lazy, I keep everything slower than before, I enjoy everyday, and put a little effort to make it better. Nothing pushes me going forward, and it seems that I wonder around here without moving any where. Maybe I am waiting for a sign or a miracle to tell me what I shall do next. I thought a lot of possibilities, but those are all dream, and all I could do here is wait.
Since last week I quited my job in a very pretty way, I came back to the club of job hunting. Maybe I fought too much, struggled for too long, and got sick from those rediculous requests, and murmur for the past couple months, I don't need any emergency, and I mean to keep everything in a very slow way. Yeah, you can say that I am truely getting lazy. My pace is so slow that my mom has to slow down when she walks with me. It seems that my last job sucked all of my energy, and I am still in the recovering stage!
Last night, I woke up at 2:44AM, and I was surprising having smile on my face, because I heard the sound of pouring rain.
That moment, I raised my head and wore this special smile on my face, and then I realized that it's all because I heard this sound, the sound of pouring rain. The second moment, I was thinking of calling one person, but no, it's 2:44AM here and it should be a stupid thing to make that phone call just to say that "I was woken up by the sound of pouring rain and it reminds me about you, so I had this smiling face on my face". Well, that's stupid!!
Everybody needs some friends, doesn't need a lot, but does need somebody be with you whenever you need. There are so many things happening in our life which you are able to share the moment with somebody you think is suitable for you. What I meant is that something you can share with some friend, but other things you feel like you can only share with others.
For instance, I have this friend in my new work, we share a lot of things together at work because that's what we got in common, and no one else understand work things better than us. We complain, bitch, cheer up, support, and help each other as much as we could. Thus, I only have feeling to talk about work with this friend. And I am so glad that I have someone to fight with me, to stand in the same position, and give me a hand when she feels I need.
Whenever I announced to my mom that I fall in love with somebody, my mom always went to fortune tellers if she though that this guy would have high possibility to take me away. In fact, I think she did so every time.
It is strange that a lot of Asians like to do so whenever they have doubt about their own action. Like before I had my college entry exam, my mom made me to the temple to pray and ask God would I get the college I wanted. Luckly, I got the note number ONE. Don't quite sure what it says now but it was a good luck note, and it turned out that I did go to the college I want and even enter the "international college". Thus, I guess there is really something that we could ask God about sometimes. Another example is that my older cousine who had this boyfriend younger than her for 4 years, they got fight a lot with lots of problems, but because they loved each other so much, they were together for 4 years with a lot of tears, fights, and whatever were not that romantic things going on. Her mom, my aunt, was so worried, so some of her friend introduced her to see a fortune teller. That fortune teller said, "well, this guy is not the guy for your daughter, they will break up this year. In her age 31, a guy will come into her life, a very good one for your daughter. But if she didn't hold this chance tight, she has to wait till 40 years old." Bullshit....that what almost everybody thought because 4 years isn't a short time, how come people can break up like that!! Well, sometimes, really, you just cannot say thing like this because there is always possibility! Thus, they broke up in the year the fortune teller said, and she did meet a guy in her age 31, so I supposed she did take more effort not to chicken out to marry this guy right now. Seriousely, sometime it just forces you to believe it!
J is a very special friend, becuase I know him from China, not in Taiwan, not in USA, not in Australia. He is an Australian who falls in love with Chinese culture. He started to study Chinese since college, and be very interested in China since that time, so he took off by himself to find a job in China four, five years ago.
In the city like ShaoXing, it is not a hard thing to know that you meet J in the street. Why? I tell you why now! 1) ShaoXing is a god damn small city, you can easily meet someone you know in the street, no matter where you go; 2) J is super tall, 190 something cm, and local people in ShaoXing are so freaking short, so if you see some foreigner 190 something tall and white, there is 99% that this person is J; 3) J knows over 300 people in ShaoXing. If you include all of his students, it should be over 300 people. So if you cannot be sure if it's him or not, you will hear some other people call his name.
There is a scary story about gastric cancer happen on a 20 years old man, due to great stress and bad eating behavior.
Since I start to work in this company, I have constant stomachache almost every day. I used to have stomachache problem when I was young and most of time, it caused by stress. It did make me feel very uncomfortable whenever it happens, and also it affects my eating (although it helps me eat less, still not a good way to be on diet). It is really not good tho!
J is a the only friend I have in China. His role in my life is a little bit similar to my another friend in Hong Kong. We don't hang out a lot, but somehow, we know each other a little more than other friends we have. I always want to thank him for being my friend when I was in China working in hell, even though for him, it's not really a big deal, because it's who he is, helping others as much as he could.
Because of work, we don't chat much online now. He is a English teacher in a cram school in China, so whenever I have time to get online, he mostly teaches in classes. Finally, today we had chance to meet online. We didn't really talk much, but ask each other how's going. He is doing find and getting ready to wonder around for a while in China. I am doing okay, except having a cheap ass boss. He asked me dozen times that if I would like to wonder around with him in China, and it will be very cool. Well, it's not possible so he called me "you are such a patriotic bugger". And before he left to teach in class, he told me "I really am missing you so much".
A friend of mine sent me a mail today about tiny frogs. It is a stroy to courage people to do their best under this kinda economy!
So, here is the story:
I had a dream last night, and I really wonder if it will come true or it is just a dream!
Well, yeah, this dream has pretty big influence on me. Mostly, it's because I wish it's not going to be true. If it become true, I guess it will really make me feel pain a lot!
I heard that Valentine's day is coming! Do you have any plan?
Well, two years ago, I worked in my first job. There were over 100 women working in that company and in our floor, we had around 70 women. It was a garment company so there is kinda normal that most of your coworkers are female. In garment/textile industry in Taiwan, it's sort of a curse that most of females employees have less chances to get involved in any relationship if you do not have boyfriend before you work in this company. Therefore, there is a saying that if you want to get a boyfriend and get married as eariler as possible, make sure that you get a good boyfriend first before you work there, or you don't even try to get into that kinda company!